COMPOSITION
– raw materials of Portuguese origin
– cotton interior
– filled with styrofoam granules
– inner lining with a zipper
– "environmentally friendly" materials
  PRODUCTION
– handmade
– made in Portugal!
– double-reinforced seams
  CARE
– covers very easy to remove and wash
– covers machine washable at 30º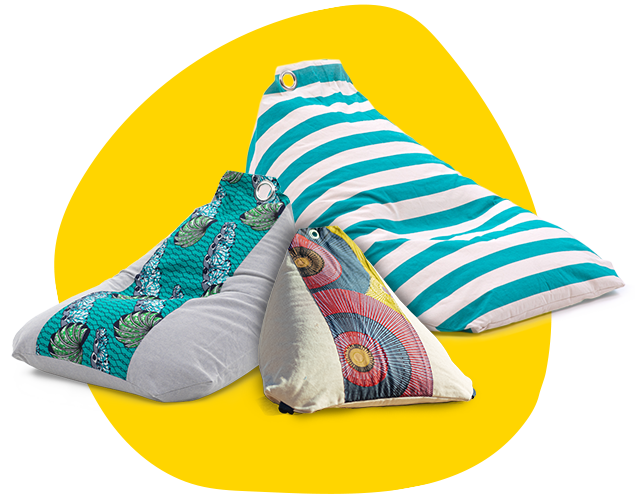 DESIGN
– colorful
– fun
– unique patterns
– outdoor and interior fabrics
 

QUALITIES
– durable
– comfortable
– resistant
– "environmentally friendly"
– for garden or pool deck
– for interior
– fast drying
All Patch + Co puffs are handmade in Portugal!
Our fabrics are produced with  "environmentally friendly" materials, with double-reinforced seams ensuring high resistance.
Patch + Co favors raw materials of Portuguese origin, with guaranteed quality and durability.
The puffs have a cotton interior filled with styrofoam granules. The inner lining has a zipper to facilitate filling whenever necessary. The design and resistance of our puffs guarantee the preservation of the environment!
Outdoor poufs are suitable for your garden or pool deck because they dry very quickly and their cover is very easy to remove, making it easy to wash. Patch + Co's colors and patterns bring much life and joy to your outdoor space.
The covers are machine washable at 30º which allows you to have your pouf in the best condition.
We give you the opportunity to only purchase the cover by reusing the interior.
All our products were created and designed to provide you with maximum comfort. We like to create products that fit into the most diverse environments, that are colourfu and fun and allow us to create positive experiences.